News
---
Construction of the All Saints Temple
15.11.2012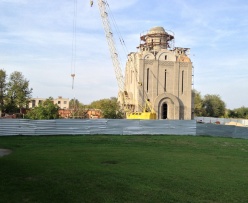 The construction of the All Saints Temple is still in progress on the territory of Uman Greenhouse Complex in the city of Uman.
The Parish of All Saints of Uman city was found on the 15th April 2008.
On the 12th of June 2008 the archpriest Oleksandr (Smaglo) was appointed as the parish priest by Uman and Zvenygorodka Bishop Antoniy. The same year the construction works of the future All Saints Temple has started. The temporary All Saints Temple was also constructed for liturgies.
On the 24th of May 2010 during the liturgy, held by Uman and Zvenygorodka Bishop Panteleimon, the stone and the capsule were established under the construction of the new All Saints Temple.
The 23rd of January 2011 the Primate of the Orthodox Church of Ukraine of Moscow Patriarchate the Gracious Metropolitan of Kyiv and all Ukraine Volodymyr, during the visit to Uman city through the Orthodox Church of Ukraine of Moscow Patriarchate, established the first brick in the wall of All Saints Temple which is under the construction.
---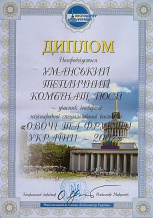 Diploma of a participant of exhibition "Vegetables and fruits of Ukraine - 2007 "
---
Happy Anniversary!
29-01-2014
January 29th the Head of Uman Greenhouse Complex Mykola Gordiy...