Press about us
---
Winners of the national program "Man of the Year 2009"
15.03.2010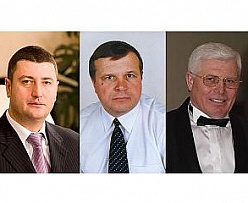 In the nomination "Agrarian of the Year"
Bakhmatyuk Oleg
Honorary Chairman of "Mriya" Vanguard ".
Golovko Vitaly
General Director of Agri "horizon".
Mykola Gordiy
Director of private leased farm "Uman Greenhouse" Honored worker of agriculture, agricultural scientist. He was awarded the Order of "Friendship of Peoples" Commander of the Order of Prince Yaroslav the Wise V century.
The main achievements in your professional activities in 2009: Commissioning of the most advanced greenhouse area of ​​5 ha, which has no analogues in Ukraine and providing growing vegetables in winter, implemented a system of production of electricity in the application of cogeneration plants for electricity for dosvichuvannya cultures greenhouse. In order to save energy recycling system introduced exhaust gas compressor stations, main pipelines for the production of heat, making it possible to reduce the use of gas for heating 12 ha of greenhouses by 60-70%; held certification under the international standard GlobalGAP and received a certificate of quality that makes can supply vegetable greenhouse production plant in Europe (this farm in the former Soviet Union, which was given a certificate).
Your "Success Formula" - knowledge of the business, confidence in their abilities, high level of development and ability to bring the matter to the end.
Your life motto - "Road overpower-reaching".
Name of guardian angel to help you succeed - guardian angel for each of us - is a good spirit that leads us in paths of life, protects and makes everything that is our good.
Who do you dream to become a child? - As a child, dreamed of becoming an agronomist, as born in the village.
Do you have a dream that has not yet fulfilled? If "yes", then who? - My dream is to be happy surrounded by happy people and the staff of my company received wages as Europeans.
To be successful today - is able to provide "undercurrents" in the economy, able to analyze and with minimal losses for the company out of difficult situations, high efficiency, tolerance, honesty.
What event in your life the air "is correlated with the number 14? - Numbers 14 - 14 March humanity celebrates the International Day number "Pi".
Do you believe in lucky and unlucky numbers? If you believe - that the numbers you happy? - Happy number - 49 (number of rooms in the hostel Uman Agricultural Institute, which gave me a start in life).
Do you wear any mascot, and if "yes", then what? - My talisman - my mother's hand embroidered towel and presented kozhdnomu of three brothers.
What do you say to yourself, waking in the morning? And at night before bed? - Every day I meet with the idea - to establish itself in the seventh life, and in the evening - do analysis for spent day.
If you had the opportunity to "start from scratch," what would you change in your life? - It would leave intact, as experience over the years can not change anything.
What is happiness? - Happiness - is the health of my family and close people to me.
Who in life you desire? - No. Envy destroys the personality.
What character trait - your main weakness? - In all, without exception, people see only the positive.
How many times a day you look in the mirror and why? - Many times, as I'm driving alone and often have to look in the mirror, especially when overtaking.
At what age did you first fell in love? - I first fell in love with the cradle - in their best mom in the world. This love carried through life.
Do you have a favorite book? If "yes", then who? - Many pay attention to the professional literature.
Your favorite aphorism? - "Smart people will find a way out of any difficult situation, and wise - in this provision does not hit" (Yu.Rihter)
With what historical figures you could make friends if were his contemporaries? - I can communicate with people of all ages, sexes, nationalities, religions and denominations. The main thing that they were interesting people.
If you were President of Ukraine, so you do first? - Would have made the team of professionals.
What do you consider your major achievement in life, and that the greatest mistake? - The greatest achievement in life - my family, my children and grandchildren. A bug is in every human being, the main draw the correct conclusions and more they are repeated.
Any work for you - the best vacation? - Talk with your family.
---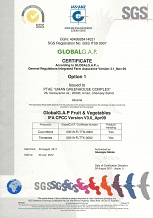 Certificate GLOBALG.A.P. - 2011