Technology
Climate and diet
We can confidently say that we do not have winter!
Greenhouses with the area of 5 ha and height of 7 m with the lighting growing technology implemented were commissioned at the end of 2008. This technology allows all-year-round growing tomatoes and cucumbers with additional lighting for photosynthesis improvement in winter time.
It was established that the development of vegetables on inflorescences depends directly on lighting: the higher is the level of lighting, the more inflorescences (blossom clusters), the shorter is the flowering period and the higher is the number of flowers.
Growing tomatoes in winter time in lighting conditions does not affect the quality of products and their nutritional qualities.
Production in greenhouses with and without photoculture
greenhouses

Jan

Feb

Mar

Apr

May

Jun

Jul

Aug

Sep

Oct

Nov

Dec

with photoculture
without photoculture
Weather conditions and growing medium are two key conditions that determine the rate of growth and quality of plants development, crop ripening and yield capacity. Therefore we pay so much attention to these aspects of production.
Computer control over microclimate in greenhousesах helps us to carry out continuous analysis of internal and external climatic indices (temperature, wind speed and direction, humidity, level of sun radiation). On the basis of these data computer controls the following systems:
ventilation;
curtain;
heating;
drip irrigation;
dose of carbon dioxide.
The automated system of irrigation has already become standard for the enterprises growing plants under screen. Together with continuous laboratory monitoring of the quality of the growing medium and water this system ensures exact metering of water and plant nutrition depending on the stage of vegetation. It is well understood that such watering system helps to save expenses for water considerably, but, most importantly, it guarantees the high-quality yield. Besides, we apply UV-purification of drain water.
Growing medium
Growing medium means the place, where the root of a plant rests, and thus on its quality the growth, health of a plant and the amount of crop depend.
Today the most widely spread medium for growing vegetables under cover is rockwool. Its essential drawbacks are low buffering capacity and problems with disposal. These problems were solved in the Netherlands.
Coconut growing medium is a 100% organic product made of specially treated and prepared coconut chips, so it is an environment-friendly alternative to mineral wool. It is free of pathogenic organism, pH level is balanced, and it has the highest buffering capacity, which means the capacity to accumulate and retain water, with this, the level of air content is up to 30-40%. All this creates good conditions for sound development of a root system. Within the entire vegetation period roots remain white and healthy, which makes additional works to support vitality of the root system unnecessary. But the most important is that plants growing in such medium become healthier and stronger than plants that grow in mineral wool, and their fruits have great taste.
Trays
One more achievement is switching our greenhouses to the raised trays technology. In this technology trays are placed on a certain level from the floor. What it gives? Firstly, it improves greatly the thermal balance of the growing medium. Secondly, greenhouses are better ventilated; thirdly, the possibilities of using mechanics increase. Moreover, it is easier for personnel to care for plants, which means increase in the productivity.
Pollination
It is well known that bumblebees and bees are pollinizers of many types of plants, and we use them extensively in our greenhouses. It is one more advantage confirming safety of our vegetables, as bumblebees and bees are great environment indicators.
Performance control
In the year 2008 the automated computer system PrivAssist was installed in few greenhouses, which eliminated the need of manual data input.
Advantages PrivAssist:
data on works performed and products gathered are input on the spot
access to correct current data at any time of day
great tool for performance improvement
Energy Complex
The expression «greenhouse facility» or «hothouse facility» implies using heating energy, and on the way you will get, delivery, distribute and store it and the technologies used depend the economic efficiency of work of the whole complex, especially in our times of always growing prices for energy resources.
We have already mentioned that we use the automatic curtain system with energy-saving and shading screens, technology of raised gutters and multiple circuits heating system for greenhouses, the system of temperature pattern adjustment along the area of greenhouses, and that all these systems are computer-controlled, i.e. show the maximum level of efficiency. But the subject of our special pride today is our power complex, in which the newest world technologies for generating electric and heating energy on the cogeneration principle and reasonable use of natural gas combustion by-products for plant nutrition are successfully implemented. The first of all it concerns carbon dioxide, without which photosynthesis is impossible.
Construction of the state-of-the-art power circuit with the use of a cogeneration combustion turbine unit Caterpillar allowed us to cut essentially our expenses for purchase of energy resources. Moreover, now we develop the secondary energy use project. At present this energy is merely wasted, not to mention polluting the environment.
Another project we implement is the electric boiler - house with the total capacity of 40 MW designated to generate heat using the much cheaper night tariff for electric power. It will allow us to reduce the costs of heating for 30%.
---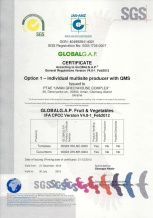 Certificat GLOBALG.A.P. - 2012