Logistics
Today the subject of our special pride is the new logistics center that consists of the Central warehouse with the area of 10,000 m2 and two finished goods warehouses.
The Central warehouse is equipped with the modern French semi-automated sorting line POMONE II with all most recent developments of the company MAF RODA implemented, particularly, OPTISCAN system used for sorting tomatoes by weight, diameter and colour. The line is equipped with semi-automated outputs that reduce labour efforts. Also we have a sorting line with the make-weight system for cluster tomatoes sorting out.
The advantages of the line include minimized human involvement into the process of sorting and delicate product handling reducing the risk of fruits damaging.
The packing line allows for customer-size package with exact weight. Bright-coloured labels on packages make products visually attractive for consumers.
The palleting system makes accounting, storage, loading and delivery of products easier through special packing materials and quality tare.
The refrigeration equipment with controllable temperature and humidity allow meeting the highest requirements to product storage.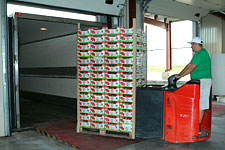 Thanks to implementation of the automated program of stock control we can control the harvested crops, sorted and packed products and products ready to be shipped quickly and without errors. Accounting of remaining materials guarantees the availability of the required reserve of packing materials.
We guarantee order handling and product delivery with own modern refrigerated transport within 24h in any place of the country.
---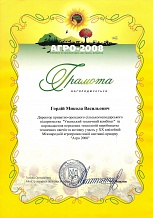 "AGRO - 2008"